CHEMICAL STORAGE CUPBOARD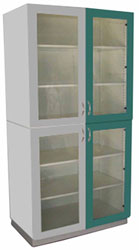 Chemical storage cupboards are available with hinged glass doors or complete metal hinged doors. Chemical cupboards are provided with four adjustable shelves.
Complete unit is finished with epoxy powder coating. This Cupboards can be provided alongwith suitable exhaust vent to pull out the fumes generated inside the cupboard.
Sizes available:
L900 x D300 x H1800
L900 x D450 x H1800
Any other sizes to suit customers requirement can be supplied.