ISLAND BENCHES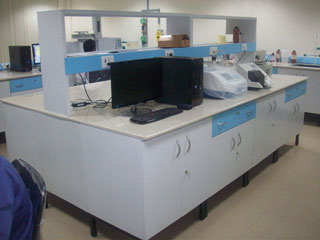 Island Benches are suitable for chemical testing in a Laboratory consists of assembly of combination of storage modules with drawers & shutters or only shutter with shelf inside and Tops of selected material.
The main features of Island Tables are same as work tables.
The Island Tables are available in following standard sizes :
2400mm L X 1500mm W X 900mm H
3000mm L X 1500mm W X 900mm H
3600mm L X 1000mm W X 900mm H
However any special size to suit customer's requirements can be made.