FUME HOODS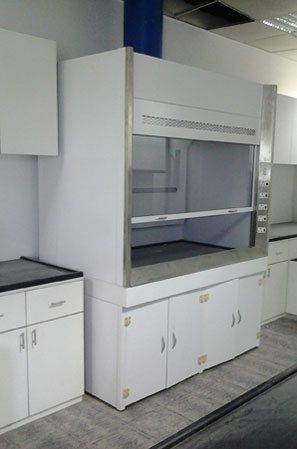 Fume hood is a essential item in a modern Laboratory 'LABTECH' Fumehoods are manufactured in Two basic materials.
Complete Steel: Fume Hoods are made from best quality C.R.C.A. Sheets (Cold Rolled cold annealed low carbon steel sheets) of specified thickness and duly finished with epoxy powder coating.
Complete Wood: Fume Hoods are made of well seasoned teakwood and marine plywood panels. Outer surfaces are lined with laminate.
Inner Lining : Options Fume hoods (Both steel & Wood) are available with variety of lining like Polypropylene (P.P.), P.P./F.R.P, P.V.C., S.S., Phenolicres in laminates etc.
Work Top Options : Granites, S.S., P.V.C., P.P., Imported Jointless ceramic, ceramic Tiles.
Shutter Options : Vertical, Horizontal, Vertical & Horizontal combined.
Blower : Centrifugal Type chemical & heat resistant Exhaust Blowers are fabricated out of P.V.C./P/P/F.R.P. With aerodynamically balanced impeller with drain plug. Available in different capacity depending on fume hood size.
Ducting : Chemical resistant Ducting with bends, brackets, supports and goose neck exhaust stack / weatherproof canopy
Ducting Material : P.V.C./P.P./F.R.P./ H.D.P.E.
Diameter of Ducting : Suitable for exhaust system of required Fume hood.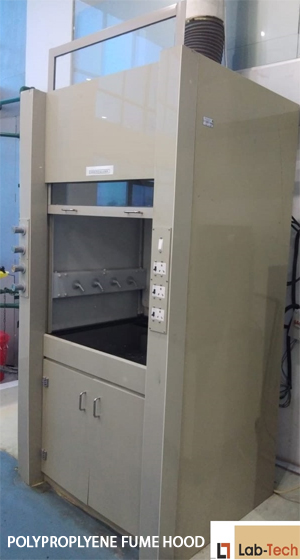 Fume Hood Types:
Conventional constant volume Fume Hood
Automatic by pass Fume Hood
Auxiliary type Fume Hood.
Walk in type Fume Hood
Choices of Fumehoods size:
1200mm L X 1000mm D X 2250mm H
1500mm L X 1000mm D X 2250mm H
1800mm L X 1000mm D X 2250mm H
2400mm L X 1000mm D X 2250mm H